That's an unprecedented 7 baby. Congrats to Team Pac!
Some quotes i plucked while greading this morning that shed some perspective of what an icon Manny has become:
http://www.taipeitimes.com
:
Father Michael Sinnott, an Irish missionary priest who was recently released from a month of captivity by suspected Muslim rebels, said his captors had been eager to set him free because they wanted to also watch the fight.

"'Your freedom is our freedom. We don't want to be here for a long time, too, and we want to watch Pacquiao's fight,'" Sinnott told the CBCPNews, quoting his kidnappers.


National police spokesman Leonardo Espina said crime across the nation dropped dramatically during the fight.
http://www.philstar.com
:
Deputy presidential spokesperson Lorelei Fajardo said Pacquiao is "living proof that the Filipino can prevail over any challenge and conquer adversity."

"Manny is a fine example of how determination and discipline can propel one from the depths of deprivation to the pinnacle of power, and yet still remain humble," Escudero said.

"We should learn from the guy two principles: One is, no fear; the other is, grit against all odds. We can do it. We can break all the records if we all just

unite

as one people."


"One win by one man, but a victory for millions of Filipinos."
"We knew he was fast but he was a lot stronger than we thought," said Cotto's young trainer, Joe Santiago.
Well, Joe, now you know.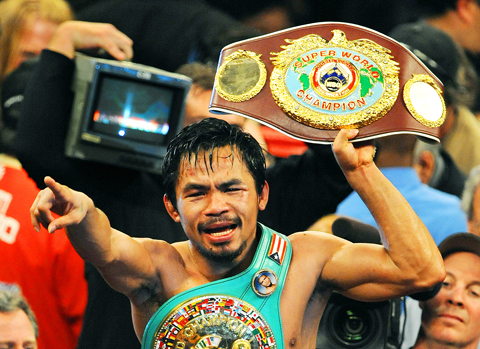 For all my Pinoys/Pinays out there! Mabuhay!